Casual Skin Pack has all the skins you want! It includes anime, games, horror, rappers and much more!
This skin pack contains 1.880+ skins divided into 2 parts.
If there is a bug or you want a skin to be added to the skin pack, tell me in the comments.
Scrolling down to the download area you can also find the Halloween/Christmas versions.
To see all of my: https://mcpedl.com/user/simon_ita/ (Consider also subscribing in order to get notified when a new update gets published.)
You can follow me on:
TWITTER: https://twitter.com/SimonIT71111471 Here you can suggest some skins you want in the next update.
YOUTUBE: https://www.youtube.com/channel/UCXWN-A_nleF4-NMTRYzWufA
XBOX: @SimonITA23
NOTICE:
If you want to make a video about Casual Skin Pack, make sure to add the link of this MCPEDL page in the description and not the direct link to the MediaFire page. This is important since coding a skin pack is difficult and I need to use these shorteners to support my content. I will never put a direct link.


Halloween Edition: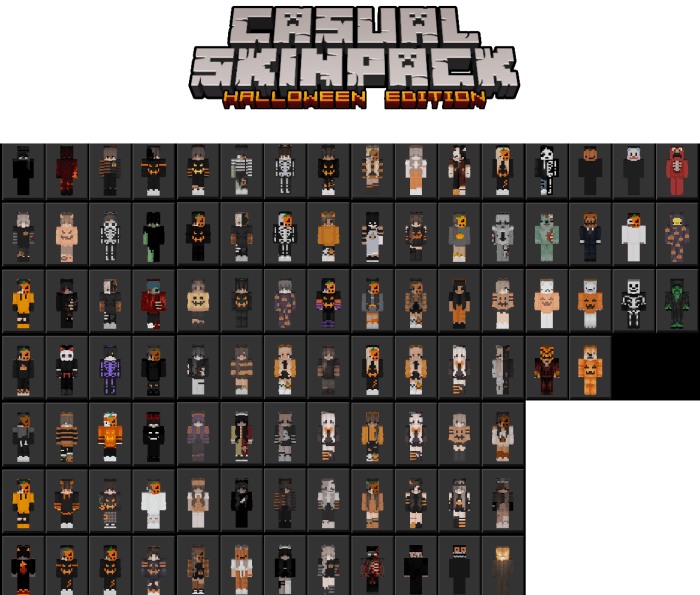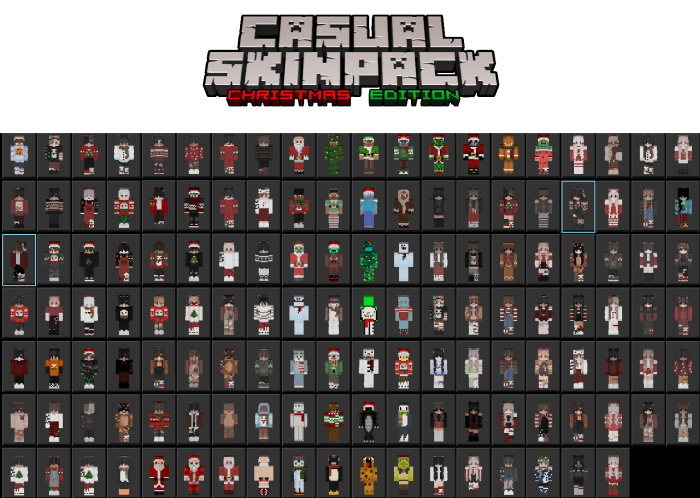 Part 1:
Boy skins
Girl skins
Mob skins
Singers
Videogames (Anime Games, Nintendo, FNAF, Sony, Cuphead, SEGA and much more)
YouTubers
Part 2:
Anime skins (May contains spoiler)
Meme skins
Marvel movies and others
Cartoons
TV Series
Horror skins
And others
Select version for changelog:

Changelog
PART 1:
More Boy skins
More Girl skins
Added Kapi and Agoti from FNF
Added Castle Crasher skins
Added more Tricky the Clown skins
PART 2:
Added Persona 5 skins
Added more ATLA skins
Added Daredevil skins
Added Verosika Mayday skins from Helluva Boss
Installation
(LINKVERTISE Q&A BEFORE DOWNLOADING)
1. Is Linkvertise safe?
Yes,it is.
It's also one of the safest shorteners since there aren't annoying pop ads with a lot of viruses, +18 ads and other ads that are, sometimes, impossible to close.
2.Do I really have to read an article to get to the download?
No, you have only to wait 12 seconds and close it.
3. Why do I have to pay Linkvertise Premium?
You don't have to pay for it. If Linkvertise forces you to do that is because you have an AdBlock extension or other.
How to download
Download both two parts of the skin pack
Wait 5 seconds
Click "Discover Interesting Articles" and wait 10 seconds
Proceed to Mediafire and download the file
When you downloaded it, the mcpack should import himself in Minecraft. if you downloaded the .zip file you have to unzip it in games/com.mojang/skin_packs (in android/ios)
Enjoy the skin pack!